It is now really easy to send PRTG alerts to Microsoft Teams.
Add an Incoming Webhook to a channel in Teams by clicking on More options, Connectors, Incoming Webhook: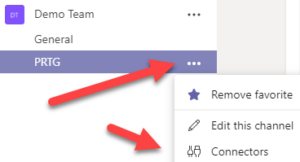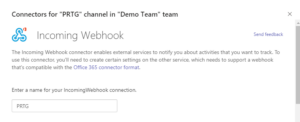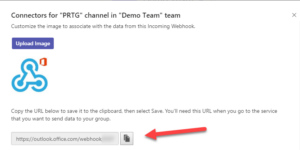 Copy the URL.
In PRTG go to Setup, Account Settings, Notification Templates and Add Notification Template:

Enable Send Microsoft Teams Message, and paste the copied Webhook URL.

After clicking Create you can now select Teams as a notification option in PRTG.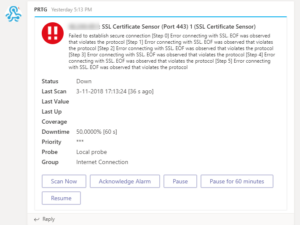 More information: https://kb.paessler.com/en/topic/80010-how-do-i-create-a-webhook-for-the-prtg-notifications-to-slack-and-microsoft-teams